Welcome to the 28. Annual Conference of the GfKl 2004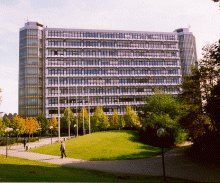 The German Classification Society welcomes you to the 28. annual conference March 9-11th, 2004, hosted by the University of Dortmund.
The German Classification Society (GfKl, Gesellschaft für Klassifikation), is a member of IFCS (International Federation of Classification Societies). In 2004 the title for its 28th annual conference is:

Proceedings volume
The proceedings volume
Weihs, C. and Gaul, W. (Eds.) (2005): Classification - The Ubiquitous Challenge. Springer, Heidelberg.
has been published, see its contents (pdf).
Classification: the ubiquitous challenge
The scientific program will include plenary and semi plenary lectures as well as contributed paper sessions on special topics. This year, it is organized jointly with the Dutch / Flemish Classification Society VOC (Vereniging voor Ordinatie en Classificatie). The conference will emphasize interdisciplinary research and the interaction between theory and practice.
Within the framework of the conference, some social and cultural excursions will be scheduled. For more information about the scientific framework program, please visit our specials section.
Conference languages are German and English. A Proceedings volume will be published in English by Springer-Verlag. More information is available in the call for papers. Authoring guidelines and templates will be available for download.
The conference office will be open on monday from 13.30 to 18.30, so you can check in already on monday. We have also organized a get together meeting on monday evening. Please check the social program page for details on this event. The opening hours for the conference office can be found at the program page.