M.Sc. Ina Dormuth
Wiss. Mitarbeiter
Kontakt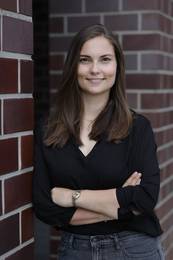 Büro:
Logistikcampus,
Raum A 3.06
Anschrift:
Fakultät Statistik
Technische Universität Dortmund
44221 Dortmund

Brief CV
Since 03/2020: Research Assistant and Doctoral Student at the Institute of Statistics, Technical University of Dortmund
2018-2019: Study-Abroad Semester at ENSAI (Erasmus+)
2016-2019: Studies of Statistics (M.Sc.) at the Technical University of Dortmund
2013-2016: Studies of Statistics (B.Sc.) at the Technical University of Dortmund
Research Interests
Survival Analysis
Crossing Hazards
Decision Trees and Ensemble Methods
Publications
Kunig, V., Potowski M., Akbarzadeh, M., Škopić, M., dos Santos Smith, D., Arendt, L., Dormuth, I., Adihou, H., Andlovic, B., Karatas, H., Shaabani, S., Zarganes‐Tzitzikas, T., Neochoritis, C., Zhang,R., Groves, M., Guéret, S., Ottmann, C., Rahnenführer, J., Fried, R., Dömling, A., and Brunschweiger, A. (2020). TEAD-YAP Interaction Inhibitors and MDM2 Binders from DNA-Encoded Indole-Focused Ugi Peptidomimetics. Angewandte Chemie.